British Columbia Travel Guide
The unofficial BC Travel & Tourism Guide
Contact Information
Wind and the Pillows B&B Retreat, Gail and Brad Potter
101 North Bonapart Road
70 Mile House, V0K 2K0
British Columbia
Phone 1-250-644-4242
Toll free 1-855-844-4242

Send an email

Go to website
A Luxury Private Bed and Breakfast/Retreat on Green Lake, 70 Mile House. Groups, family gatherings, camping, cabins, summer and winter activities. Horseback riding nearby.
Family Room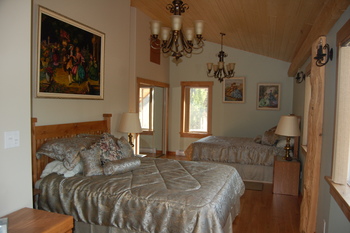 This room has 2 Queen sized Beds for two singles or families. It has access to its own private ensuite, depending on the amount of bedrooms booked. This suite opens up into the upper foyer as you look down upon the Great Room and out to the lake.

Rates: Persons 1-4
Time
Please request our current rates by email or phone.
~Includes Specialty Breakfast~ ~3 days/2 Nights~ ~Weekly Specials~ ~Lunch + Dinner Optional~

Contact Wind and the Pillows B&B Retreat, Gail and Brad Potter
Wind and the Pillows B&B Retreat, Gail and Brad Potter
101 North Bonapart Road, 70 Mile House, V0K 2K0, British Columbia
Phone 1-250-644-4242 Toll free 1-855-844-4242
Send an email
More information about Wind and the Pillows B&B Retreat, Gail and Brad Potter