A Culture of Generosity- A Beaders' Gathering!!
Date:
Saturday Apr 20, 2013
Time:
10:00am - 10:00pm
Community: Port Alberni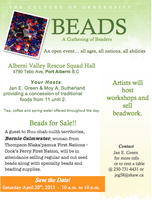 We are hosting a beaders' gathering in Port Alberni, B.C. on April 20th, 2013. It will run from 10 to 10 at the Search and Rescue Hall on Tebo.... just next to the Co-op Gas Station on Johnston Road coming into Port Alberni.
All ages, all nations, all abilities. There will be workshops and beaders selling their work. There will be beads for sale by Bernie Calmwater. Your hosts, Jan E. Green and Moy Sutherland will have a concession of traditional foods over the lunchtime. Coffee, tea and spring water available at no cost all day long. For more info contact Jan jeg58@shaw.ca
Contact Info: