ThoughtForm
Date:
Friday May 31, 2013 - Saturday Jun 22, 2013
Community: 100 Mile House
(Category: Galleries/ Exhibits/Shows, Public Art Gallery)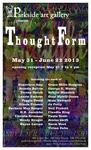 ThoughtForm
Featuring the works of 25+ local artists
Influenced by our hope of capturing the indefinable spirit that makes something more than just beautiful, artists explore the forms around us. By shifting our thought away from how it looks to an attempt to capture its spirit we create something new. No longer the thing that inspired us but the essence of the " something more" distilled into its purest form.
Contact Info:
Location:
Parkside Art Gallery, 401 Cedar Avenue, 100 Mile House