Front Street Gallery-Call for Submissions
Date: Saturday Oct 01, 2016 - Thursday Oct 20, 2016
Community: Penticton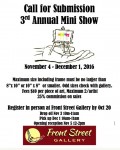 Calling all artists in the Okanagan, here is the challenge to create a perfect but "mini" piece of art. This show is always a wonderful example of talent in a small package. Apply in person at

the gallery from Oct 1-20.

Note:

- Size restriction is 8x10" or 10"x8" frame included. Odd shaped dimensions must be approved

by FSG before being accepted. Contact the gallery.

- All entries must be the original work of the entrant and must not infringe on the copyright of

any other party.

- All pieces of Art work must be Gallery Ready (framed items as well as unframed stretched

canvasses must have appropriate hanging or display materials on the back)

-Front Street Gallery will provide full staffing 6 days a week Monday-Saturday.

-Payment by cash, cheque or credit card

-Community public service announcements are provided through Front Street Gallery network

and promotion through Front Street Gallery Facebook events.


Contact Info:
Front Street Gallery, 17784760016, Click here to send an email
Website