Fired Up! Works in Clay 29th Annual Exhibition and Sale
Date:
Monday May 06, 2013 - Saturday May 25, 2013
Community: Oak Bay
(Category: Artists & Fine Art Artisans, Galleries/ Exhibits/Shows, Pottery, Ceramics, Show)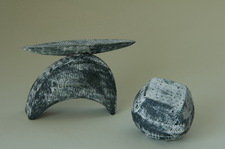 New this year!
Fired UP! will offer a special preview show call "Shake it Up!" at Eclectic Gallery located at 2170, Oak Bay Avenue. The exhibit runs from May 6-25th.
The work will be a tantalizing sample of salt and peppershakers, as well as signature pieces from the Fired UP! group. Opening reception at Eclectic Gallery, Thursday, May 9th, 6-8 pm.
"Salt of the Earth, Vessels for Tasteful Living"
The artists of Fired UP! Contemporary Works in Clay invite you to their Salt of the Earth, "Vessels for Tasteful Living" exhibition at the 29th Annual ceramics show, May 24-26th, 2013.
Nine core Fired UP! members, as well as five guest artists will fill the Metchosin Hall with a range of signature pieces in individual booths. A central theme gallery will feature vessels by artists, created using the 500 year-old salt-fired technique. In addition, there will be theme related salt and peppershakers to delight collectors. All artists will be in attendance.
Everyone is welcome at this free, wheelchair friendly event. Gala Opening Reception to be held on Friday, May 24 from 6:00 – 9:00 pm, with sales starting at 6:30. Location: Metchosin Hall, 4401 William Head Road, Metchosin, BC. We invite you to join us for this diverse and exciting exhibition. Come and be dazzled!
2013 Artists in attendance include:
Susan Delatour, Gary Merkel, Gordon Hutchens, Kinichi Shigeno, Alan Burgess, Meira Mathison, Meg Burgess, Pat Webber, Cathi Jefferson, and guests: Louise Card, Sandra Dolph, Maeva Collins, Tina Fife and our guest coming from farthest away, Cheryl Oliver, traveling all the way from New Zealand!
For Information contact: Pat Webber / (250) 537-8871
email: jwebber@saltspring.com / www.firedup.ca
Contact Info:
Location:
Eclectic Gallery, 2170 Oak Bay Avenue, Victoria, BC