"Port to Starboard" Annual Art Studio Tour 2013
Date:
Sunday Aug 04, 2013 - Monday Aug 05, 2013
Community: Pender Island North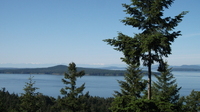 A self guided tour located on Port and Starboard Roads in the Magic Lake area of North Pender Island.
Sunday August 4 - Monday August 5, 2013, 11 AM - 4 PM
Admission is free and all studios are within an easy 2 block walking distance of each other. Just follow the green signs past the disc park to studios.
Contact Info: