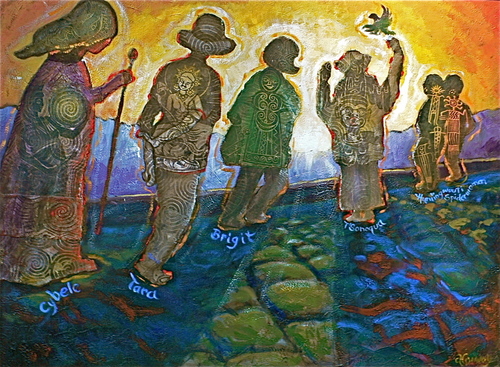 Celebrating Our Sacredness
Welcome to The Goddess Works at
DREAM HILL
STUDIOs
4515 Emily Carr Drive
Victoria,B.C. Canada
250-658-8770 thegoddessworks@shaw.ca
Ann-Rosemary Conway BFA
Paintings, Hand-made prints on Tree Free paper, collage and sculpture.
ART Books
Ann-Rosemary Conway holds an Honors Degree in Fine Art, University of Victoria, B.C. with extended studies in Printmaking and Oriental Papermaking. She has exhibited in numerous Group and Solo Art Exhibitions in both private and Public Art Galleries. She is included in many international collections.

" My work is dedicated to the reinstatement of The Sacred Feminine Principle. In the ancient tradition I create sacred imagery to evoke respect, dignity and honour for the feminine in all, especially woman and Mother earth. Long ago we lived in harmony with our environment. The ancient ones evoked in us a reverence for Mother Nature by creating images of the Feminine as Sacred, thus reminding us of our response-ability to the nurturing aspect of ourselves. We then can repair the wounds of the Earth with new respect for the incredible healing power we embody.

'Woman's Reclaiming Journey'
Acrylic on canvas 2'x4' $4000.00
Posters available $60.

Information Gift Packages available . Send address and $10. cheque to address above.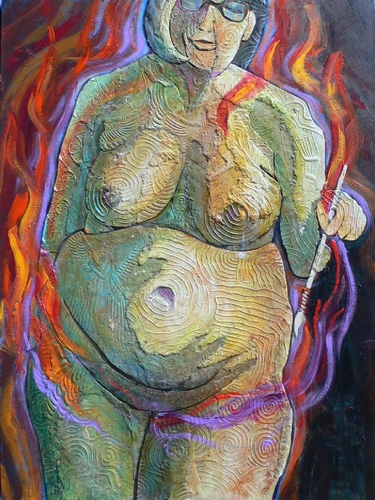 The Artist, Creation Mystic.
Re-Creating the Self

30' x 40' Acrylic Collage
$4000.

250-658-8770 to order.
Painted Drums; 'Together green' E-mail for selection of drums available.

Fourteen Inch milar Drums Completely weatherproof, with painted labyrinth community of Green man and Green Woman (Tara)
Do e-mail at;
thegoddessworks@shaw.ca; to view all the different images and drums available

14" $140.. Including shipping



Call 250-658-8770
'She Is The Boat''
This is my vision of The Green Tara and Black Madonna as She carries us across the sometimes difficult waters of life. She IS the Boat. The Green Tara is known as The Boatwoman.
Acrylic painting on canvas.
30" x 40"
$ 2000.. Including shipping.
9" x 11" repro $30.
CAll for delivery 250-658-8770
Re-Create your LIFE with SEMINARS, WORKSHOPS, Private Dream and Art counseling AND CEREMONY.
1.'COMING HOME' A power point presentation available, by appointment, of Stonewomans Journey.
Book Stonewoman in your community.!
2. 'TOOLS FOR TRAVEL DRAWING' Visual Note Taking Workshops. $6
0 :3 hrs. No skills required.
3. Individual DREAM COUNSELING $75.250-658-8770.
4. CEREMONIAL ART WORKSHOP Art Therapy Fun.
$80. 4hrs. Individual :$60.:2 hrs. No skills required.
5. "Womanspirit STORYTELLING TOUR $10. per person. Small group of 2-5 persons.
6 'PAINT YOUR MASTERPIECE; Individual Art Lessons. Acrylic and Berol Prisma Color Stixs . NO SKILLS NEEDED
$60. per session: 2 hours, weekly or biweekly.
7 CROWNING THE CRONE.
A Coming of Age Ceremony to honor the Wise Elder woman. Donation.
*** Information Gift Packages available, Send $10. to Dream Hill Studio.