Welcome to our Fibre art guide for information about Fibre art in Grand Forks.
Total listings: 2 Showing: 1-2
Page:

[1]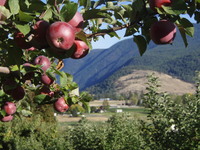 a unique agritourism visit - with artistan gallery and organic farm tours
Grand Forks , V0H 1H5, 5315 Spencer Road ,
Ph. 250-442-8583
New Twist on Sox The socks you knit from this pattern are guaranteed to fit the foot they were intended for and wear well.
Grand Forks, V0H 1H0, PO Box 1083
Ph. (250) 442-2575
add your listing