British Columbia Travel Guide
The unofficial BC Travel & Tourism Guide
Contact Information
Silver Spur Trails
82 Procter Road
Lumby, BC
British Columbia
Phone 250-547-9869
Fax 250-547-0141

Send an email

Go to website
We also speak: German
Wilderness Guest Ranch Vacations in Canada's Wild West! Join us on our trails into the North-Okanagan Wilderness in British Columbia, Canada... for the ranch holiday of a lifetime!
Ranch-stay Package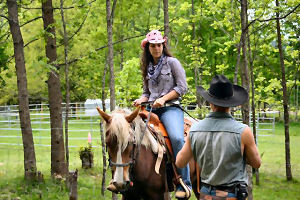 We offer Ranch vacations all year round. Our Guest Ranch is cozy, with a woodstove for cool nights and a wood cook stove in the kitchen. The rooms are comfortable and the beds have feather duvets.Horseback riding and other ranch activities are included in the package price.

Amenities:
Coffee maker, Fireplace, Hair dryer, Hot Tub, Linen and Towels, Wood Stove

Rates: Persons 1-7
Time
Please request our current rates by email or phone.

Show availability

Contact Silver Spur Trails
Silver Spur Trails
82 Procter Road, Lumby, BC, British Columbia
Phone 250-547-9869

Send an email
More information about Silver Spur Trails