Welcome to our Campground guide for information about Campgrounds in Okanagan Valley.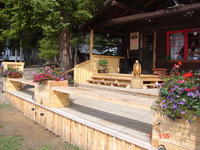 Where the fly fishing is the best in the west by the dam site. Come relax with family and friends in a mountain lake natural setting.
Kelowna, V1P 1A2, 11950 Postill Lake Rd.
Ph. 1-877-623-6982 or (250) 718-0579
We have all the amenities a Camgrond can offer.
Armstrong, V0E 1B0, 3311 Park Drive
Ph. (250) 546-4041 or 250 546 6972
Holiday Park Resort ~ Canada's Largest 4 Season RV & Condo Destination for Travel, Vacation & Retirement.
Kelowna, V4V 1P4, 1 - 415 Commonwealth Rd
Ph. 1-800-752-9678 or 250-766-4255