Welcome to our Campground guide for information about Campgrounds in Okanagan Valley.
Holiday Park Resort ~ Canada's Largest 4 Season RV & Condo Destination for Travel, Vacation & Retirement.
Kelowna, V4V 1P4, 1 - 415 Commonwealth Rd
Ph. 1-800-752-9678 or 250-766-4255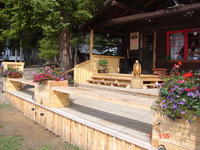 Where the fly fishing is the best in the west by the dam site. Come relax with family and friends in a mountain lake natural setting.
Kelowna, V1P 1A2, 11950 Postill Lake Rd.
Ph. 1-877-623-6982 or (250) 212-0579
We have all the amenities a Camgrond can offer.
Armstrong, V0E 1B0, 3311 Park Drive
Ph. (250) 546-4041 or 250 546 6972