Welcome to our Wood carving/turning guide for information about Wood carving/turning in Summerland.
Total listings: 1 Showing: 1-1
Page:

[1]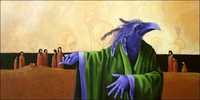 Ron Stacy paints the magic of the west coast in acrylic and oils. He finds inspiration in the mythological characters from around the world, and puts his own twist to their actions.
Summerland, V0H 1Z6, 14417 Biagioni Ave
Ph. (250) 494-9280
add your listing