Welcome to our Long Term Rentals guide for information about Long Term Rentals in Tofino - Ucluelet - Pacific Rim.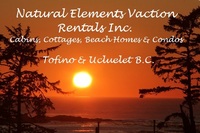 Tofino & Ucluelet / Natural Elements Vacation Rentals Inc. Over 20 plus luxurious vacation rental accommodations on the West Coast of Vancouver Island! Book Cabins, Beach homes, Apartments, Condos and Cottages online today!
Clean & quiet, spacious condo-style travel apartments located on a quiet residential street in downtown Ucluelet. Walk to restaurants, groceries, trails, ocean, harbour and tours!
BC, V0R 3A0, 1906 Bay Street , Box 849 (Front Desk: 279 Hemlock St @ West Coast Motel on the Harbour), Ucluelet
Ph. 250-726-2985