British Columbia Travel Guide
The unofficial BC Travel & Tourism Guide
Saturday Oct 12, 2013 - Monday Oct 14, 2013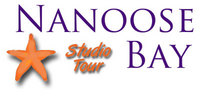 Nanoose Bay Studio Tour 2013
Studio Hours 10AM to 4 PM
Take a walk on the creative side and discover 20 Artisan Studios in scenic Nanoose Bay.
For a map and individual studio hours throughout the rest of the Open Studio season, and other special events, pick up a brochure at a local Visitor's Center, visit our website or click on tour booklet below the map.
Participating Members:
Please click on the member name to get more information.
3
Willow Shack Studio, Ellen Atkinson


2430 Summerset Rd, Nanoose Bay, BC

5
Phillips Pottery


2471 Schirra Dr, Nanoose Bay, BC

6
Knut Pottery, Alan Knutson


2550 Powder Point Rd, Nanoose Bay, BC

7
Lee River Wood Turning, Ron Zaborniak


2621 Northwest Bay Road, Nanoose Bay, BC

8
Ocean Front Studio Gallery, Ravi Sharma


3045 Dolphin Drive, Nanoose Bay, BC

9
Boat House Studio, Peter Kiidumae


2993 Dolphin Dr, Nanoose Bay, BC

10
P. Nadeau Studio Gallery, Pauline Nadeau Evans


3397 Bradner Circle, Nanoose Bay, BC

11
JPHolbrook Studio, Jay Holbrook


2535 Nuttal Drive, Nanoose Bay, BC

15
Beach Pebbles Studio, Sharon Beatch


1532 Reef Road, Nanoose Bay, BC

17
Red Cod Forge / Affinity Stone Jewelry, Dave & Debra Kasprick


2155 Spurs Place, Nanoose Bay, BC

18
Patricia Carroll Studio Gallery, Patricia Carroll


1560 Arbutus Drive, Nanoose Bay, BC

19
PAPAINTS, Pat Palmer


1955 Kaye Road, Nanoose Bay, BC

20
Rivers Edge Gallery, Deanna Corrigan


733 Rivers Edge Drive, Nanoose Bay, BC
Click on Nanoose Bay Thanksgiving Studio Tour - Booklet to print this tour as a PDF file. (Adobe Acrobat reader is required to print this file)

Other Participants:
And our guest artists for this tour:

Studio #10, Terri Reid (photography)
Studio #15, Patricia Marie Spence (paintings)
Studio #18, Nancy Day (paintings)
Studio #19, Eunmi Conacher & Mary Ann Fleming (painters)


Contact Info: