Saturday May 31, 2014 - Sunday Jun 01, 2014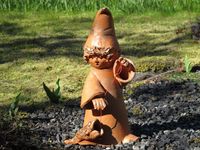 11:00am to 4:00pm
Follow the yellow arrows to six sites in the countryside, with 17 artists and artisans: potters, sculptors, painters, metal artist, wood turner, artisan baker and author. Enjoy spring in Saanich West.
For more information please contact any participant.
Participating Members:
Please click on the member name to get more information.
1
Heidi Roemer


1717 Woodsend, Victoria, BC

1
Roger Champagne


1717 Woodsend, Victoria, BC

1
Linda Anne Baker


1717 Woodsend, Victoria, BC

2
Aspen House Productions Ltd., JOY FINLAY


270 Trevlac Place, Victoria, BC

2
Rustica Pottery, Rosemary Neering


270 Trevlac Place, Victoria, BC

2
Esther Drone , Esther Drone


270 Trevlac Place, Victoria, BC

2
Baba's Bakery, Ray Drone


270 Trevlac Place, Victoria, BC

3
Monika Burrell Pottery, Monika Burrell


6809 Jedora Drive, Brentwood Bay, BC

4



5990 West Saanich Road, Victoria, BC

5
STONE ANGEL, Audrey Van Eerden


5635 Forest Hill Road, Victoria, BC

5



5635 Forest Hill Road, Victoria, BC

5



5635 Forest Hill Road, Victoria, BC

6
Alexander Pottery, Nancy Alexander


922 Nicholson Street, Victoria, BC
Click on Saanich West Studio Tour 2014 - Booklet to print this tour as a PDF file. (Adobe Acrobat reader is required to print this file)

Other Participants:
Daniel Casey
Marj Harding
Glen Atkinson
Frances Beckow
Contact Info: