Welcome to our Silk painting guide for information about Silk painting in Victoria.

Welcome to Jan's Garden Studio where you will find hand painted silk scarves, art cards, and bright collages. Stylized images in bold colour combinations of birds, animals, flowers, people, fish and villages, symbolically reflect Jan's outlook.
Sidney, V8L 3H1, 10276 Resthaven Dr.
Ph. (250) 655-1007 or (250) 655-1007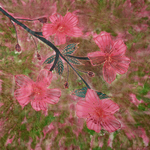 silk painting
Victoria, V8T4C8, 304-2310 Quadra Street
Ph. 250-383-9060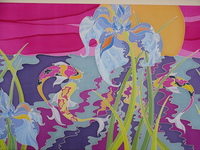 Vivid and vivacious colours abound in these wonderfully original paintings on silk.
East Sooke, V9Z 1C2, 700 Seedtree Rd.
Ph. 250 514-1802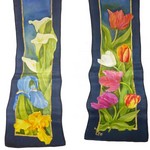 Nature & Wildlife Inspired Silk Painting, Wearable & Textile Art. Studio/Gallery Visits/Commissions Welcome! Silk Painting classes now offered. VISA, MC, AMEX
Victoria, V9C 3Z1, 5125 William Head Road, (Metchosin)
Ph. 250-474-7698
Kit's Studio, Kit McDonald, Sidney

Watercolour and Collage Studio/Gallery in Sidney. Kit is offering classes in Watercolour basics, Collage, Composition and Colour. Please e-mail for more information.
Sidney, V8L1P7, 2263 Frost Ave.
Ph. (250) 656-6603 or (250) 656-6603