Posted Wednesday Dec 11, 2013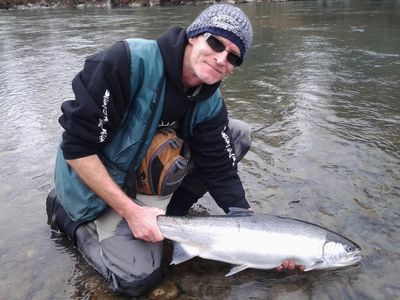 As we head into the Xmas season and the middle of winter there are big changes for fishing. The salmon have pretty much all spawned now and their carcasses lay everywhere on the river banks which will add nutrients to the river and feed dozens of different critters from Bears, Eagles, Wolves all the way to insects. This spectacle of the salmon spawn is truly remarkable and should be witnessed by everyone.
The end of Salmon season marks the beginning of Steelhead season, which runs from December to early May. Steelhead are just starting to enter the
Chilliwack/Vedder river
and also a few early fish will have gone into the Chehalis river east of
Mission
. On the
famous Vedder river the bulk of the run returns from mid January to later March but fish are available from now until early May.
If you love river fishing and looking for a rewarding experience then you'll want to book a trip and experience why so many are addicted to this fish.
Other fishing options for our area: Cutthroat trout on the Harrison river and Fraser valley back channels, Bull trout on the
Harrison
and
Squamish
river valley. These options are great for fly fishing.
More information about Vancouver