Accommodation details
D's Bed & Breakfast in Brackendale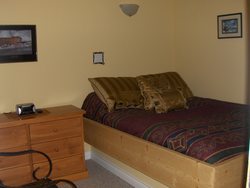 New: Two, 2 bedroom suites with full kitchen facilities, private entrances and private outdoor hot tub. Nestled in the beautiful outdoor adventure capital of Canada, there are many world class activities to enjoy, or simply relax with a private ensuite massage.
Specialize in customized small group retreats:yoga/ladies pamper weekend/boys golf weekend/wedding/workshops etc.
Rates: Persons 1-6
Time
Please request our current rates by email or phone.
- rates start at $99.00/night based on double occupancy - two bedroom suite 250.00 based on up to 6 ppl includes full breakfast 150.00 for 1 brm suite (bedroom with ensuite soaker tub, living room, kitchen, 2 bathrooms) accommodates up to 4 ppl. 250.00 entire 2 bedroom suite, 2 full bathrooms, kitchen and living room. 10% discount if no breakfast is desired.