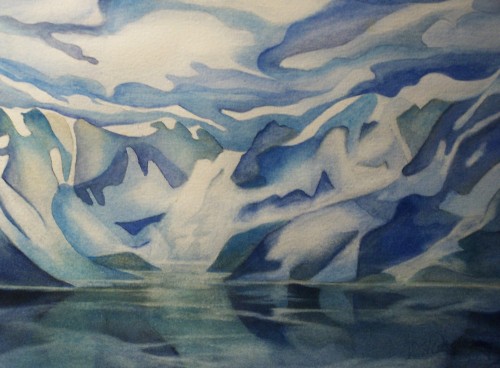 "Glacier Fields", Watercolour, 21 1/4" X 17 1/2",
Price $500 framed
Inspired by a trip to to the ice fields of Alaska.

Born in 1947 in New Westminister, BC, our family moved to Fort St. James shortly thereafter. During the summer of 1961 we took up residence in Campbell River, BC. Throughout my growing years I always had a keen interest in art. School gave me my first opportunity to test my talents.

I married young and raised my two children while working in the service industry, first as a waitress and then a clerk cashier in the grocery industry for over twenty years. My second marriage was the beginning of a new and fruitful life. After I retired it was at this point that I was able to take up my art.

I have studied for the past ten years under various instructors to obtain my goals.

My main meduim is watercolour, but I have moved along into other mixed media. Art became my new direction in my life. The solitude, the oneness, the vibrancy of colour and the various meduims of art which are available to today's artists, basically everything in or about art, holds my passion. I still continue to study to this day.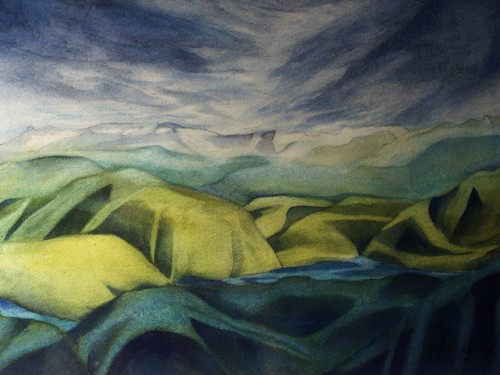 "Summer Light", Watercolour,21 1/4" X 17 3/4"
Price $500 framed

To master watercolour painting, I have studied with well-known Campbell River watercolour artist Chris Wootten for the past several years. I have also participated in various workshops by artists such as Bob Sheridan, and Peggy Burkosky.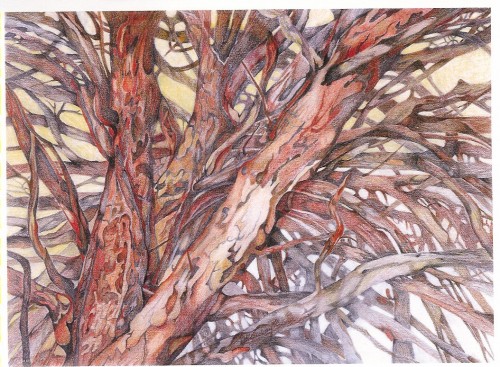 "Knarled Tree", Coloured Pencils,38 1/4" X 30 1/2" framed
Price $950 framed.

Recently, I have been experimenting with different media including pencils, coloured artist pencils, and mixed media. "Knarled Tree" was created using pencils and coloured artists pencils. I loved the way the old Arbutus branches intertwined, and I felt that using the artists pencils would give me more control in translating the rich warm colours to paper. It took many layers to create the texture of the knarled tree branches. Many hours over a period of eight months went in to creating this painting.
"Island Sunset", Watercolour, 29" X 15" framed
Price $500 framed

Nothing surpasses the breathtaking beauty of a Vancouver Island sunset. These are some of the Islands through Desolation Sound. "Island Sunset" is one of a series of three paintings which also includes "Dusk" and "Night Light".
"Standing Tall", Watercolour, 28" X 34"
Price $950.00 framed
I was inspired to paint these giant trees found at Cathedral Park,on the way to Port Alberni.

Trees are a recurring theme in my paintings. Translating the power and majesty of these giants of the forest onto paper with paint is always a challenge I enjoy.