Plein air painting on Salt Spring!
Date: Saturday May 13, 2017 - Sunday Aug 13, 2017
Community: Fulford Harbour
(Category: Artists & Fine Art Artisans, Oil painting, Workshops/Classes, Art Workshops)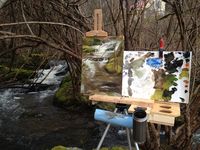 Plein air painting can be extremely challenging and rewarding at the same time. I know how easy it is to lose control of one's palette. In this workshop you will learn how to take control of your palette, color mixing and how to optimize your palette for hassle-free painting. We will paint side-by side so you can follow along every step of the way.

Personalized Plein air Instruction for a maximum of two individuals at a time. Workshops begin on the weekend of May 13th and run until the 13 of August. Choose the weekend of your choice between the start and end dates. Fees: $400 ~ Does Not include Accommodation. Does include a Lunch and snacks and transportation to and from your Hotel/B&B. This workshop is ideal for those who want personal one-on one Instruction. Also those who want to brush up on their skills in preparation for a group Plein air excursion.

Contact Naomi to Register.
Contact Info:
Naomi Grindlay, Grindlay's Studio, 250-930-7332, Click here to send an email
Show member page
Website