5-Day Bas Relief Workshop for Potters, Painters and Sculptors!
Date: Wednesday Aug 09, 2017 - Sunday Aug 13, 2017
Community: Duncan
(Category: Artists & Fine Art Artisans, Sculpting, Workshops/Classes, Art Workshops, Art Retreat)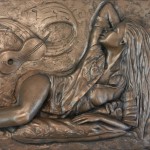 POTTERS, PAINTERS AND SCULPTORS!
Add greater dimension to your work
Bas Relief Workshop with Angela Pistrucci
Wednesday to Sunday, August 9 to 13, 2017
9:00 a.m. to 4:00 p.m.
$595 Limited Space Available; Reserve your spot by July 1st!
Workshop Location: The HUB at Cowichan Station, Duncan, BC,
2375 Koksilah Road, Cowichan Station, BC

Whether you typically work in two or three dimensions, if you want to add depth and texture to your work, it's all about relief!

Join noted fine artist Angela Pistrucci for a 5-day exploration into bas relief sculpture. Using clay as your canvas on pottery, functional ware and slabs, students will have the opportunity to design a project and gain a basic understanding of the 3 major sculpting techniques and types of bas relief -- high, low and alto relief ... techniques you can apply to a multitude of projects! Learn how relief can be used in your painting, impasto, jewellery, pottery and sculpture. For beginner to advanced artists alike. Download the Workshop Supply List at pistrucciart.com

About the instructor: Angela is a Fine Artist /Art Instructor specializing in portraiture, sculpture, architectural ceramics, product design and development. Her work has been exhibited in galleries in Canada, Italy and Australia, and was also showcased earlier this year at the World Money Fair in Berlin.

In January 2016 Angela received the opportunity to study at the Istituto Poligrafico della Arte della Zecca. The centre is the only one of its kind in the world for artists seeking to specialize in the art of engraving and bas relief. The art of bas relief is in Angela's DNA, as she is the great-great-great grand niece of the famous Benedetto Pistrucci, who served as Britain's Chief Medallist, crafting the first Saint George and the Dragon Gold Sovereign for the Royal Mint in 1817 as well as his seminal work, "The Waterloo Medal", which celebrated the end of the Napoleonic Wars. Angela was thrilled to work with the London Mint to commemorate the Bicentennial of the Modern Sovereign 1817-2017 with the minting of her first coin of the realm in early 2017.

Contact Info:
Cindy Moyer, 250.857.7821, Click here to send an email
Website
Location:
The HUB at Cowichan Station, 2375 Koksilah Road, Duncan