A Weekend of Zen: The Art of Henna and Incense Making
Date: Saturday Aug 19, 2017 - Sunday Aug 20, 2017
Community: Whistler
(Category: Artists & Fine Art Artisans, Healing Arts/Health, Arts Community, Events/Festivals, Candle making, Lecture/Seminar, Workshops/Classes, Mixed Media, Art Workshops, Demonstration, Health and Healing Workshops, Art Retreat)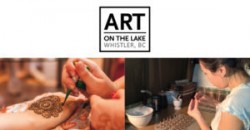 10:30-4:30 both days (with a lunch break)

Day 1: Henna
Ancient, intricate, organic, and long lasting, yet temporary body art. Learn all about Henna Art! An introduction, how to mix your own henna paste, how to roll a henna cone, how to create a successful henna design and apply it, caring for a henna tattoo, health and safety of henna tattoos, and also how to add bling and sparkles to your henna designs.

Day 2: Incense
You will learn the elements of ancient, traditional whole-herb incense-making from the gathering of ingredients to methods of burning. Discuss the different kinds of incense and methods of creation, touch on the basics of scent-mixing, and play with the world of herbs and their amazing natural properties.

After learning all about the incense industry, creation begins with tying your own smudge stick. Next, mix your own original loose incense blends from the many natural ingredients provided, or use one of a number of recipes. You will learn different techniques for burning these mixtures. You will have the opportunity to create 3 different kinds of formed incense - non-combustible pellets, and combustible cones and sticks. In order to enjoy your wonderful new creations you will also make your choice of soapstone incense burner or shallow smudging dish from a variety of shapes and colours of soapstone. We will file and polish our stones by hand and finish them with beeswax.

Participants will take home a smudge stick, two vials of loose incense, an incense stove, one set of incense pellets, one set of sticks, one set of cones, and a hand-polished soapstone burner. You will also receive instruction and handouts for: basic incense making materials and equipment, incense ingredient list, basic incense-making instructions, directions for making an incense stove, sample incense recipes, and herbal information chart.
Contact Info:
Arts Whistler, 604 935 8410, Click here to send an email
Website