Esquimalt Farmers Market
Date: Thursday May 25, 2017 - Thursday Sep 14, 2017
Community: Esquimalt
(Category: Artists & Fine Art Artisans, Music, Events/Festivals, Dining, Markets, Organic food/wine, Barbeque/Picnic, Refreshments, Wine Tasting, Slow Food)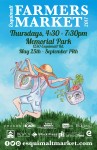 EFM is in it's third season! You'll find locally grown produce, live music, food trucks, locally made food products and artisans, as well as a great community gathering with a fantastic vibe!

The outdoor season runs weekly from May 25th - September 14th 2017 at our NEW LOCATION, Memorial Park, 1230 Esquimalt Road!

Esquimalt Farmers Market is a food-focussed market, dedicated to promoting healthy and local living, building relationships and encouraging environmental and economic sustainability in Esquimalt.
Contact Info:
Vanessa Pattison
Website