Sins of the City Walking Tours: "Vice, Dice, and Opium Pipes"
Date: Friday Jun 30, 2017 - Saturday Oct 07, 2017
Community: Vancouver
(Category: Tours, Art/Cultural Tour)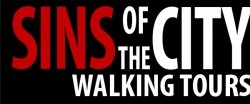 Walk the beat and see what it was like to be a cop over a century ago, when Vancouver was a seething hub of sex, drugs, corruption and organized crime. Our walking tour, Vice, Dice & Opium Pipes, will take you through the streets of Vancouver's Chinatown, one of the nation's oldest neighbourhoods, where you will learn about the brothels, bootleggers, gamblers and gangsters that ruled the town over a century ago. Hear about famed criminals like Joe Celona, who had ties to liquor, gambling and prostitution, and learn about the booming opium dens that plagued the city's rich and poor at every turn. A two-hour walk, this tour gives you first-hand access to the very streets and alleys where some of the nation's most notorious crimes took place. You'll see a side of the city that truly puts a new spin on the term "the wild West."

Departs: 18:00 on Fridays & 11:00 on Saturdays, running weekly until October 7th
Price: $18/adult, $14/seniors (aged 60+) & students (aged 16-18 or with valid Student ID)
Duration: 90 mins
Capacity: 20 guests
Phone: (604) 665-3346

Reserve your spot at sinsofthecity.ca!

Contact Info:
Naomi Nguyen, 6046653346, Click here to send an email
Website