Lake Cowichan Salmon Mushroom Festival
Date: Saturday Sep 23, 2017 - Sunday Sep 24, 2017
Community: Lake Cowichan
(Category: Events/Festivals, Festival, Vendors)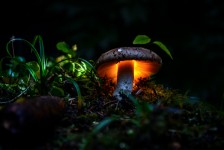 Each year our festival gets bigger and better...seventeen years of community support and eagerness to learn about the salmon and wild mushrooms from the Cowichan Valley. Last year over seven hundred adults and children attended. Enjoy the various vendors, from those selling jewelry, preserves, fresh produce, home baked goods and lots of mushroom growing kits. Local artists have joined the celebration, as many of the area's painters, ceramists and artisans are offering their vision of the beautiful nature that the valley offers.

The mushroom display with Ingeborg Woodsworth provides information and guests with opportunities to identify any fungi brought in by visitors. Weekend admission for adults $8, children 12 and under are Free, Sunday only admission $5. Upon admission enter to win two spaces in Ingeborg Woodsworth's mushroom workshop valued at $80.

Always a sellout, the Fungi Cafe will again serve up delicious salmon and mushroom based recipes, all for $5! During the weeks ahead, rain willing, Ingeborg and friends pick the mushrooms for display and to fuel the Cafe!

We offer a children's table for young ones to get involved by creating their own art with salmon and mushroom forms.

For many of our visitors, the big attraction is the Saturday field trip. Each year we have up to one hundred people for this trip into our local woods. So come and join in the fun...there's "Magic" at the Lake Cowichan Salmon, Mushroom Festival!

New this year, reserve your space in our paint night. We provide everything you will need for use at the event: canvas, paints and brushes. The creative process will last about two hours, at the end of which you get to take home your new masterpiece. Space is limited to 20 painters.

Stay tuned for more events and the Festival schedule.
Contact Info:
Ingeborg, 1-250-749-6291, Click here to send an email
Website