Art Show: Flora and Fauna
Date: Monday Aug 07, 2017 - Sunday Aug 13, 2017
Community: Sidney
(Category: Galleries/ Exhibits/Shows)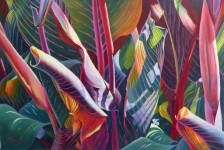 Award winning artists Marilynn Murray and Sharon Kleim are proud to present their flora and fauna exhibition featuring many different and diverse pieces. Rarely will you find such creative and inspiring pieces of art for prices this reasonable and affordable. These pieces truly capture the elegance of flowers and the spirit of nature in a way that will enhance and beautify any home and living space.

Marilynn Murray
Marilynn is proficient in most media and is best known for her detailed rendering of flowers and children. She was born in Cranbrook, BC and has lived in BC all of her life. She now lives in beautiful Brentwood Bay and devotes much of her time to painting and teaching art.

Sharon Kleim
Sharon has dabbled in watercolour for over 30 years and she has had a love affair with it ever since . She finds it the perfect medium to represent the beauty she sees all around her. Sharing it with everyone is a joy!
Contact Info:
Sharon Kleim, 250 882 7893, Click here to send an email