The Old School House Arts Centre celebrates 30 years of ARTS.
Date: Monday Jan 29, 2018 - Saturday Mar 17, 2018
Time: 10:00am - 4:30pm
Community: Qualicum Beach
(Category: Performing Arts, Artists & Fine Art Artisans, Arts Community, Events/Festivals, Pottery, Oil painting, Acrylic painting, Water colour painting, Fibre art, Arts Association, Festival, Printmaking, Silk painting, Drawing, Musical/Musical Theatre, Photography, Encaustic painting)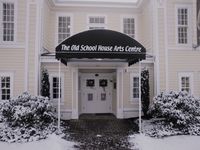 In February of 2018 The Old School House Arts Centre (TOSH) at 122 Fern Road West, Qualicum Beach, will celebrate its 30th anniversary of being open to the public
The building was originally opened as a school over 100 years ago in 1914. It began with two classrooms, two teachers, and 41 pupils in grades 1-8. It served as the sole elementary school for Qualicum Beach for over 60 years.
By 1976, more schools had been built to accommodate the growing number of students, and the old school building was no longer needed. The District 69 School Board used it as an office for about nine years until they built a new administrative facility in 1985, and at that point the old school building was vacated and put up for sale. The Town of Qualicum Beach purchased the land and building for $50,000 with the intent of bulldozing down the old school house to create a parking lot in its place.
Then, a group of disappointed but nonetheless forward-thinking community members and local artists formed a committee to save the building and develop an arts centre. This group told the Town that they would fundraise for the renovation fees themselves, and the Town Council agreed to temporarily lease the building to them. With generous support and donations from the entire local community, the Planning Committee raised $75,000 before the Town's 90-day deadline: a record-breaking fundraising achievement at that time.
The renovations commenced in 1987. As the volunteers involved had regular jobs and could only work on weekends, the Renovation Committee quickly realized that more workers were needed and proceeded to recruit inmates from the Brennan Lake minimum security prison. Some of these workers lived in the rooms that now house the administrative offices of TOSH. These renovations continued for a year.
On a sunny day in February, 1988, The Old School House Arts Centre finally held its opening ceremony. About two hundred people crowded Fern Road outside the building to celebrate this volunteer driven community accomplishment.
TOSH still continues to follow the guidelines of its original 1985 Planning Committee: an art gallery within a historical building with resident artists' studios, three galleries, a gift shop, and a classroom for art classes.
In 1998 a music program was added so that community members could enjoy the experience of sitting in the intimate gallery and listening to top quality professional performing artists while viewing the superb artwork presented in more than 14 annual exhibitions featuring all mediums and skill levels.
The TOSH gift shop represents 150 Vancouver Island artists, and the classroom accommodates two classes a day for 5 days a week, as well as four painting groups and a weekly life drawing session. In addition, Tosh accommodates 30 Resident Artists in open-to-the-public studios. Numerous special events are presented throughout the year, and one perennial favourite is the Grand Prix d'Art en plein air painting race that is held every summer.
The 2018 TOSH 30th Anniversary Celebration will feature two consecutive exhibitions (from January 29 to March 19) entitled "30 Years of ARTS". These shows will feature artists who have graced our gallery walls through the years with their magnificent work. There will also be a special jazz concert in the Qualicum Beach Civic Centre on February 27, and the Town of Qualicum Beach will refurbish the original arts centre sign in our front lawn. Please visit our website (www.theoldschoolhouse.org) for more details about all of the planned celebratory events.

Contact Info:
The Old School House Arts Centre, 2507526133, Click here to send an email
Show member page
Website
Location:
V9K 1T2, Qualicum Beach