Abstract Landscape with Acrylics
Date: Saturday Jun 30, 2018 - Sunday Jul 01, 2018
Time: 09:00am - 4:00pm
Community: Metchosin
(Category: Artists & Fine Art Artisans, Acrylic painting, Printmaking, Drawing, Workshops/Classes, Mixed Media, Art Workshops, Art Retreat)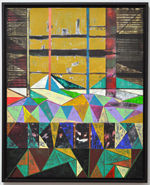 This is a great place to start if you would like to explore abstraction. Award-winning painter, Chin Yuen, will show you how to borrow from your surrounding to find inspirations. She will guide you through several exercises that promote looking and painting with different perspectives and new techniques.

Throughout the workshop, Yuen will use visual presentations and live demonstrations to share a variety of painting techniques achieved with Golden Artists Acrylics. Yuen will provide you with some supplies to apply these techniques immediately to your work. Besides using Golden Heavy Body, Fluids, and a variety of pastes, you will also get to experience creating landscape monotypes by printing with Golden OPEN Acrylics. In addition, you will learn how to incorporate image transfers with your paintings to enhance depth and visual intrigue.

The possibilities are endless. Come with an open mind and enjoy painting abstract landscapes with acrylics. There is plenty of one-on-one guidance, so students of all levels are welcomed.
Contact Info:
Chin Yuen, 250.391.2415, Click here to send an email
Show member page
Website
Location:
Metchosin International Summer School of the Arts, 650 Pearson College Drive, Victoria