INTO THE WOODS: Photographs by Greg Glover
Date: Saturday Feb 17, 2018 - Wednesday Mar 07, 2018
Community: City of Victoria
(Category: Artists & Fine Art Artisans, Galleries/ Exhibits/Shows, Art cards, Gallery, Photography)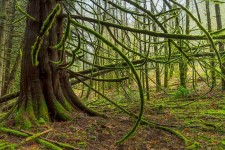 INTO THE WOODS is a collection of images from the forests and shores of Vancouver Island.

The show runs from February 17 to March 7, 2018.
Opening reception: February 17, 1–4 p.m.
Metropolis Photo Gallery
102-864 Pembroke St., Victoria.
Gallery hours: Wednesdays, Saturdays & Sundays, 1–4 p.m.

Greg Glover is a Victoria-born artist and designer who loves photographing the West Coast. He is inspired by the lush greenery of the temperate rainforest and its vast but secret spaces, as well as our dramatic shorelines. After studying Fine Art at Camosun College in Victoria and Emily Carr Institute of Art and Design in Vancouver, Greg lived in Japan for 12 years. Being away from home shifted his perception and heightened his appreciation of the beauty of our province.
Contact Info:
Greg Glover, 250-704-0011, Click here to send an email
Website