Paints 'n Bloom Art Show & Sale
Date: Thursday Apr 26, 2018 - Saturday Apr 28, 2018
Community: Burnaby
(Category: Galleries/ Exhibits/Shows, Arts & Crafts Show)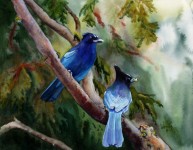 Artists Audrey Bakewell and Wendy Mould invite you to their "Paints n' Bloom Art Show & Sale, Thursday to Saturday, April 26 - 28, 10-4pm at GardenWorks at Mandeville, South Burnaby. The event features award winning artists Wendy Mould, AFCA and Audrey Bakewell, AFCA. Pre-show event is: Workshop Day Wednesday, April 25, Beginner Watercolour Class,10am-12 and Creative Card Class, 1:30-3:30pm at Mandeville. The cost for each is $35 per person all supplies included. Register Wendy 604-314-2232.

Audrey Bakewell and Wendy Mould have been hosting the Paints 'n Bloom art shows and workshops since 2011 and have raised over $4000 for the Alzheimer Society of B.C.
Below is information that may be used to promote the show and sale.

Contact Info:
Wendy Mould, 604-314-2232, Click here to send an email
Website