Seven Artists and Guests: a one-day art in the garden show and sale
Date: Sunday Jun 10, 2018 - Sunday Jun 10, 2018
Community: City of Victoria
(Category: Artists & Fine Art Artisans, Galleries/ Exhibits/Shows, Arts Community, Events/Festivals, Glass art, Sculpting, Pottery, Wood carving/turning, Acrylic painting, Water colour painting, Jewellery, Arts Group, Ceramics, Arts & Crafts Show, Art cards, Collage / Mixed media, Markets, Family event, Mixed Media, Folk Art, Vendors, Digital Art)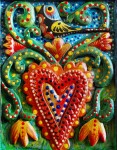 This relaxed garden-party show and sale of glass and ceramics, folk-art, sculpture, illustration, painting and mixed media will take place Sunday, June 10, 2018 from 10:00 am to 4:00 pm in the Oaklands, Victoria front garden of glass-blower Lisa Samphire.

The "seven artists" in this group are fire and heat loving friends Glassblower Lisa Samphire, Jo Ludwig and Peggy Brackett of KilnArt Glass, Sid Samphire and Adele Samphire of Samphire Pottery, Cindy Gibson of Cindy Gibson Ceramics and Hermann Edler, maker of whimsical wood folk art.

We have invited two friends to join us for this spring show: Karina Kalvaitis and Jennifer McIntyre.

Contact Info:
Cindy Gibson, 250-592-8257, Click here to send an email
Website