Scattered Artists StudioTour
Date: Saturday May 19, 2018 - Sunday May 20, 2018
Community: Saanich
(Category: Tours, Studio Tour)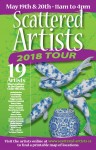 Scattered Artists Studio Tour has been taking place for over 21 years in the neighbourhoods around Cedar Hill Golf Course. This year's tour takes place May 19th and 20th from 11am – 4pm. Entry and parking are free.

This year 19 artists are participating at 9 locations within the area bordered by Mt Doug, Quadra St, Cedar Hill Rd and Hillside Ave. Painters, a potter, mixed media, photographer glass and fibre artist will all be exhibiting their work.

Look for the bright green Scattered Artists signs and arrows that direct tour participants to the locations. Maps are available online from www.scattered-artists.ca or can be picked up at Fig Deli, Cedar Hill Rec. Centre or from the artists on the days of the sale.
Contact Info:
Nancy Fraser, 250-508-2053, Click here to send an email
Website