2018 Fired Up! Exhibition and Sale
Date: Friday May 25, 2018 - Sunday May 27, 2018
Time: 10:00am - 5:00pm
Community: Metchosin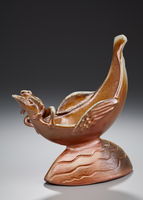 Fired Up! Contemporary Works in Clay hosts an exhibition and sale of exquisite one of a kind ceramic work the last weekend of May in Metchosin each spring.

Please join us Friday May 25 2018 - 6-9:00pm for the Opening night
Saturday and Sunday 10am-5pm.
Metchosin Community Hall, 4401 William Head Road, Metchosin.

This year's theme is Coastal Vessels: Romancing the Sea featuring 14 established ceramic artists from across the coast.

Contact Info:
Fired Up! Contemporary Works in Clay, 250-418-0313, Click here to send an email
Show member page
Website
Location:
Metchosin Community Hall - 4401 William Head Road, Metchsoin