Chicago - Broadway's Killer Hit Musical
Date: Wednesday Jun 20, 2018 - Saturday Jun 30, 2018
Community: Nanaimo
(Category: Performing Arts, Music, Galleries/ Exhibits/Shows, Arts Community, Events/Festivals, Theatres, Show, Comedy, Dance, Musical/Musical Theatre, Choir, Concert/Performance, Band, Orchestra/Symphony Orchestra, Singer, Vocal Ensemble, Drama, Presentation/Open Forum)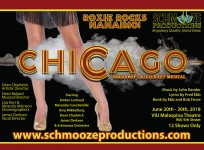 Set amidst the razzle-dazzle decadence of the 1920s, CHICAGO is the story of Roxie Hart, a housewife and nightclub dancer who maliciously murders her on-the-side lover after he threatens to walk out on her.

Desperate to avoid conviction, she dupes the public, the media and her rival cellmate, Velma Kelly, by hiring Chicago's slickest criminal lawyer to transform her malicious crime into a barrage of sensational headlines, the likes of which might just as easily be ripped from today's tabloids.

A live orchestra with 13 talented musicians playing hit songs you might recognize like All That Jazz and Cell Block Tango.

This Killer Hit Musical started on Broadway in 1975 with original choreography by Bob Fosse. Chicago was revived on Broadway in 1996 and became the longest running musical revival. The 2002 film version of the musical won the Academy Award for Best Picture starring Catherine Zeta-Jones, Renée Zellweger, Queen Latifah and Richard Gere.
Contact Info:
Dean Chadwick, 250-739-0721, Click here to send an email
Website