Opera Kelowna presents Bizet's Carmen – August 16-19, 2018
Date: Thursday Aug 16, 2018 - Sunday Aug 19, 2018
Community: Kelowna
(Category: Performing Arts, Opera)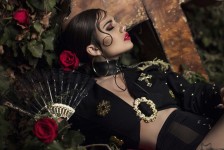 Opera Kelowna presents Georges Bizet's scintillating classic Carmen, August 16-19, 2018
at 7:30pm at the Kelowna Community Theatre. Staged in an exaggerated modern setting with the flavour of the inner-city, this heartbreaking story full of passion and desperation follows the journey of a flirtatious gypsy temptress who captures the hearts of bullfighter, Escamillo and army officer, Don José. Alternating in the title role is celebrated mezzo-soprano Barbara King and Suzanne Lommler, who makes her Opera Kelowna debut. The cast also includes tenors Jason Slayden and Ernesto Ramirez, soprano Lara Ciekiewicz, and baritone Geoffrey Sirrett. Opera Kelowna's adult chorus will join the principal cast onstage, accompanied by the Opera Kelowna Orchestra, led under the baton of Scottish conductor Bernard McDonald.

Tickets from $78.62 at brownpapertickets.com/event/3197046 or call 250-575-1434.

Contact Info:
, 604-558-2400 ext: 513, Click here to send an email