Masterclass in Crime Writing with William Deverell
Date: Friday Oct 12, 2018 - Sunday Oct 14, 2018
Community: Rocky Mountain Parks BC/Alberta
(Category: Artists & Fine Art Artisans, Literary Arts, Arts Community, Arts Council, Arts Association, Arts Group, Creative Writing, Libraries, Author/Writer, Workshops/Classes, Reading)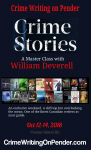 A weekend workshop intended for those who are either contemplating or actively writing a crime novel, whether it be a mystery or a thriller. Participants will receive concrete and practical training with both group and one-on-one instruction.

Topics include: Working from concept to final manuscript. Plotting, creating suspense, the art of pacing. Developing strong, original characters. The do's and don'ts that acquiring editors look for. Writing creatively, with verve and punch. And much more.

The venue is a cliff-top inn overlooking the Salish Sea on Pender Island, in the Gulf Islands of BC. It is tucked away under a canopy of ancient trees, and overlooks whale migration routes.

JOIN US TODAY by registering at: crimewritingonpender.com.

There is still time to take advantage of our early bird registration.
Contact Info:
Charlene Thompson, 5066507499, Click here to send an email
Website