Mystics at the Museum & Morgue Ghost Tours
Date: Saturday Oct 06, 2018
Community: Vancouver
(Category: Events/Festivals, Adventures/Outdoors/Sports, Tours, Family event, Presentation/Open Forum, Halloween)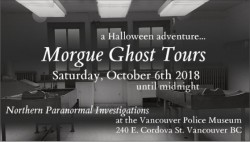 A HALLOWEEN ADVENTURE AT THE OLD CITY MORGUE WITH NORTHERN PARANORMAL INVESTIGATIONS
Start the month of ghouls and goblins with a bang! The Northern Paranormal Investigators join us once again for a spooktacular evening of storytelling and future-foreseeing. It's a double feature – Mystics at the Museum during the day and Morgue Ghost Tours until midnight – a Vancouver event you won't want to miss!

Northern Paranormal Investigators have been visiting the museum for several years and have done many investigations in which they have interacted with the spirits of the museum. Thousands of bodies have been through our halls, we were the old City Morgue after all. On this night NPI members will take small groups through the museum and tell the stories of what they have found here. If you're at all sensitive then this is an event for you.

Two mystics will be at the museum during the day providing their services to accompany your evening adventure! Book your Tarot Card Reading or Psychic appointment, check out the museum during the day and return at night for your tour!
Contact Info:
Naomi Nguyen, 6046653346, Click here to send an email
Website