Shop Rock Bay: Makers Open House & Holiday Market
Date: Friday Nov 23, 2018 - Saturday Nov 24, 2018
Community: City of Victoria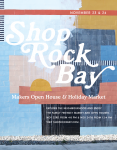 Makers Open House & Holiday Market!

Explore the neighborhood, meet the makers & buy local this Christmas.

A family friendly event with various open studios and local makers displaying and selling hand made goods.

Collect stamps at the designated locations to enter the Grand Prize draw valued at over $500.
Contact Info:
Jordan Cassidy, 250-818-6395, Click here to send an email
Website