New Years Eve at the Cove Lakeside Resort
Date: Monday Dec 31, 2018 - Tuesday Jan 01, 2019
Community: Kelowna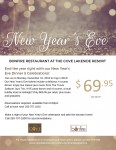 4205 Gellatly Rd, West Kelowna, BC V4T 2K2

Join us on Monday, December 31, 2018 to ring in 2019!
Our New Year's Eve tickets include a delicious 4 course
dinner. Enjoy live classic jazz music from The Trevor
Salloum Jazz Trio, NYE party favours and of course, a local
bubbly toast at midnight! Only $69.95 per adult, plus taxes
and gratuities.
Reservations required, available from 6:00pm.
Call to book now! 250.707.1810
www.bonfirerestaurant.ca

Make a night of your New Year's Eve celebration and take the elevator home!
Call 250-707-1800 for accommodations.
Contact Info:
Terry, 250.707.1810, Click here to send an email
Website