Moonlighting Fine Silver Metal Clay Jewelry Making Workshop
Date: Friday Apr 12, 2019 - Sunday Apr 14, 2019
Time: 09:00am - 5:00pm
Community: Nanaimo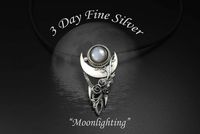 Accommodations

With 4 nights on-site accommodations you will be assured of a relaxing no travel presence at the workshop.

On-Site Accommodations available: x1 bedroom - Queen size bed, x2 bedrooms - Double size bed - shared living space and includes a full kitchen and parking.

Off-Site accommodations, x3 bedrooms - Double size beds - accommodations are private bedrooms but may have a shared living space and includes either full kitchen or breakfast included. Parking may be on street.

Workshop

The 3 day intensive program will give you the opportunity to perfect your experience in hand-forming fine silver techniques. This is an intermediate to advanced "Master" class recommended (although not a pre-requisite) for those with kiln firing metal clay experience. Please review the recommended experience level details prior to reservation to ensure this workshop meets your requirements.

This workshop is designed to guide you in the creation of your own unique pendant design that includes zones dedicated for the application of dust granulation and forming roses. You will also creat post settings for pearls by embedding silver wire into the un-fired clay. After kiln firing the piece, you will also create and solder a decorative bezel setting and set a beautiful Moonstone if you choose to follow the example piece. Participants will have a choice of example pieces to create their own unique design.

You will also cover rotary tool sanding, polishing to your piece to your preferred finish.
Contact Info:
Sky-And-Beyond / Metal Clay Adventures, 250-668-6502, Click here to send an email
Show member page
Website
Location:
TBC, Nanaimo