Connect with Your Spirit Guides Class
Date: Tuesday Mar 05, 2019 - Tuesday Mar 05, 2019
Time: 7:00 - 9:00pm
Community: Shawnigan Lake
(Category: Workshops/Classes)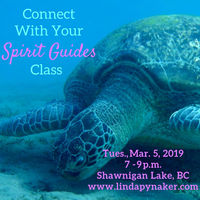 This is an opportunity for you to learn how to connect with your spirit guides so that you may receive messages from them and develop more meaningful relationships. You will become more able to benefit from their support.

Get to know who your spirit guides are and find out the following:
• what they look like
• their individual personalities
• any past relationships you have shared
• what their purpose is in your life

Registration is limited to 6 people.

Early Bird Discount by Feb. 23: $45 (incl. taxes); Registration Fee after Feb. 23: $65 (incl. taxes)

Location: Spirit Communications, 1547 Shawnigan/Mill Bay Rd., Shawnigan Lake V0R 2W2

Register online at www.lindapynaker.com. Please contact Linda for more info or to register by phone. If you prefer to pay by e-transfer, information is available on her website at https://www.lindapynaker.com/calendar/connect-with-your-spirit-guides-class/

Testimonials:

Thanks for helping me become more confident and aware of using my intuition to connect with spirits. Chantelle

It was truly one of the best I've taken in this genre. You were so approachable and hands on. You are amazing. Mike

It's your down to earth spirit and your loving warm heart that allows people to open up. You teach with laughter and playfulness that keeps the class alive and flowing. Kim

Linda Pynaker, MSW, is an accomplished author and psychic medium. She is able to connect with your loved ones in spirit through trance. During readings, you may explore career, relationships and health. Linda is also able to connect with your spirit guides through trance, review past lives and provide one-on-one intuitive training.

She has appeared on radio and television and is a vibrant international speaker. Her books, Make It Happen! Use Your Intuition and Positive Spirals, Messages of Hope and Healing and Time to Heal are available on amazon, her website at www.lindapynaker.com and most bookstores. More info about Linda is available at www.lindapynaker.com.
Contact Info:
Linda Pynaker, Spirit Communications, 2507100930, Click here to send an email
Show member page
Website
Location:
1547 Shawnigan/Mill Bay Rd., Shawnigan Lake