FRESH Group Exhibition
Date: Wednesday Apr 17, 2019 - Tuesday Apr 30, 2019
Time: 11:00am - 5:00pm
Community: City of Victoria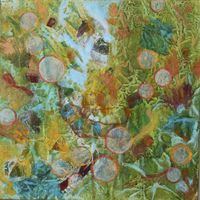 Artists Janis Blyth, Marilyn Chapman, Linda Darby, Nancy Dolan and Liz Wells are exhibiting a collection of new work.

"FRESH" at Fortune Gallery, 537 Fisgard St, Victoria, B.C. V8W 1R3. April 17-28 2018. Opening reception April 18 7-9 pm.

From images of Chinatown history, to cityscapes, nature, portraits and abstraction, each artist has interpreted the "FRESH" theme in their unique way, yet with a dynamic connection that weaves through all the artwork.

Contact Info:
Nancy Dolan, 250-383-7777, Click here to send an email
Show member page
Website
Location:
537 Fisgard St, Victoria V8W 1R3