West Coast Wildlife and Landscape Photography by Helen B. Watt
Date: Friday Apr 19, 2019 - Thursday Apr 25, 2019
Time: 09:00am - 5:00pm
Community: Sidney
(Category: Galleries/ Exhibits/Shows, Arts & Crafts Show, Gallery, Show, Public Art Gallery)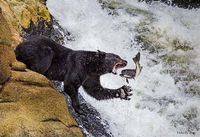 Join local artist Helen B. Watt to see her stunning images of West Coast Wildlife and Seascapes from BC and Alaska and recent work from Africa.

Local photographer Helen Watt is showcasing her dramatic images of West Coast wildlife, landscapes and seascapes. Enjoy stunning images from BC and Alaska's coast; see grizzly and black bears, sea otters, whales, birds and glaciers.

This year features her work from Kenya and Tanzania with landscapes and wildlife; from big cats, elephants, cape buffalo, giraffes, zebras and birds.

Artwork is available in a variety of formats; canvas, framed and matted pieces, aluminum and greeting cards; there is something for everyone.

Contact Info:
Helen Watt, Helen B Watt Photography, 2506566674, Click here to send an email
Show member page
Website
Location:
ArtSea Gallery in Tulista Park at 9565 5th Street , Sidney, BC