Streamkeepers Training
Date: Saturday Sep 21, 2019 - Sunday Sep 22, 2019
Community: Gibsons
(Category: Workshops/Classes)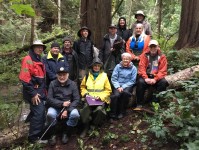 The Sunshine Coast Conservation Association is teaming up with the Sunshine Coast Streamkeepers to offer a two-day Streamkeepers workshop to encourage the formation of volunteer Streamkeepers groups for local waterways. This effort is part of our long-term goal that EVERY stream and creek on the Coast is cared for by the people who love it and live nearby! Join trainers Dianne Sanford and Angela Kroning for a hands-on introduction to fish habitat and stream restoration, aquatic life identification, and waterway stewardship. Become a certified Streamkeeper! 
 
Please join us for training at Chaster Creek in Elphinstone September 21st and 22nd from 9am to 5pm each day and learn how you can give some love to your local creek whether it be near or far! Cost is $50 person and there are only 12 spaces available. Apply by September 2nd here. https://forms.gle/XyKAejdPxhcL6crL8
Presented in collaboration with the Sunshine Coast Streamkeepers.
Contact Info:
Sunshine Coast Conservation Association, 604-865-1633, Click here to send an email
Website