Pottery wheel level on Nov. 21 and Hand Building level one on Nov. 20. Classes are fun, creative, challenging, educational and very therapeutic. Classes include 10 lbs of clay and unlimited studio time to come in and practice.
Date: Thursday Nov 21, 2019 - Thursday Dec 19, 2019
Time: 06:00 - 08:00am
Community: Kelowna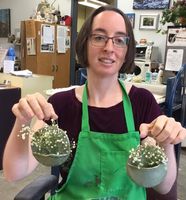 Thursday evening pottery wheel & Wed. eve. hand-building techniques
In these courses, students will learn to make cylinders, bowls, vases, and a sculpture. Glazing and decorating will take place on the last class. Be prepared to have fun and get down and dirty Maximum four students in the pottery wheel and eight in the hand-building course.

Contact Info:
Bonnie Anderson, Potters Addict Ceramic Art Centre, 250-763-1875, Click here to send an email
Show member page
Website
Location:
108-421 Cawston Ave., Kelowna