POTTERS BY THE SEA - Show and Sale of 10 local potters; ArtSea Gallery, Tulista Park, Sidney, BC.
Date: Friday Oct 23, 2020 - Thursday Oct 29, 2020
Time: 10:00am - 4:00pm
Community: Sidney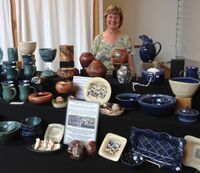 Free Entry/ Parking. COVID safety: Masks please, hand sanitizer at entry, one-way arrows with 8 person limit, touchless card payment available. Wheelchair accessible. Ten potters from greater Victoria, all members of the South Vancouver Island Potters Guild will be available throughout the week - see www.victoriapotters.ca for more info about the guild.
Tulista Park is on the oceanfront just south of Sidney, with a lovely walkway along the water for your added enjoyment.

Contact Info:
Nancy Wall, EARTHEN VESSELS POTTERY, 250-479-3524, Click here to send an email
Show member page
Website
Location:
9565 Fifth St., Sidney