Pacific Rim Potters Annual Autumn Show and Sale returns after a Covid-19 hiatus!
Date: Saturday Nov 06, 2021 - Saturday Nov 06, 2021
Time: 10:00am - 4:00pm
Community: Victoria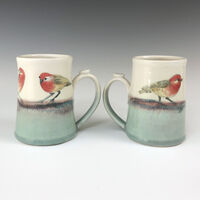 Welcome to Victoria's longest running pottery show and sale. We celebrate hand-made ceramics!

The Pacific Rim Potters are a group of professional local artists who began exhibiting ceramics together over 30 years ago. Membership has evolved over the years. Linda Vigliotti, Meira Mathison, Tony Mochizuki, Cindy Gibson, Ester Galac, Darrel Hancock, Nora Lewin, and Peggy Elmes are the current members. They consistently put together classy and eclectic shows of functional and sculptural pottery encompassing a wide range of styles.

Joining the event for Autumn 2021 TBD

Each of the potters has developed an individual style, and perfected their own designs for a wide array of pieces, ranging from eggcups to sculpture. Colourful garden art rubs shoulders with unique pottery for the kitchen, elegant Ikebana vases, dramatic display pieces and the humble coffee mug. This show is a great place to find that perfect gift, something for you, your backyard birds or find inspiration for your next pottery class. All artists will be in attendance.

This is a free, wheelchair accessible event, with free parking, complimentary refreshments and door prizes by raffle. Shoppers, browsers and everyone welcome!

Knox Presbyterian Church Hall, 2964 Richmond Rd. Victoria.
Saturday, November 6, 2021. 10:00 am to 4:00 pm.

Contact Info:
Cindy Gibson, Cindy Gibson Ceramics and Belle and Dragon Pottery, 2505928257, Click here to send an email
Show member page
Website
Location:
Knox Presbyterian Church Hall, 2964 Richmond Road, Victoria, BC