Curvaceous Art Exhibition
Date: Friday Jul 15, 2022 - Thursday Jul 21, 2022
Community: Sidney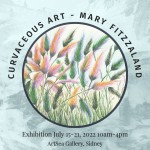 Curvaceous Art Exhibition

July 15 - 21, 2022
Gallery hours: 10am - 4pm
Location: ArtSea Gallery, Sidney

This July I will be exhibiting my best, and most recent, artwork at the ArtSea Gallery. I invite you to come and explore a world of intricate lines and vivid colours. Whether it's from outside inspiration or purely imagination, I'm excited to share my work in my debut solo show.
Contact Info:
Mary Fitzzaland, Click here to send an email
Website