Aging Well - an exhibition in two parts
Date: Thursday Sep 08, 2022 - Saturday Oct 01, 2022
Community: Penticton
(Category: Healing Arts/Health, Galleries/ Exhibits/Shows, Public Art Gallery)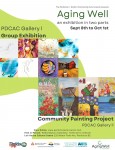 September 8th to October 1st at the Leir House Cultural Centre, 220 Manor Park Ave, and online.
Gallery hours are Wednesdays to Saturdays,
10:30 am to 4:30 pm

The Penticton & District Community Arts Council has invited senior (55+) to exhibit their own expression of what aging well means to them, an opportunity to reflect on their past as well as their vision for the future, for this two-part exhibition.

Gallery I features a group exhibition from an open call for participants. Pottery, oil, watercolour, mixed media, and more. Participating artists range from emerging artists to seasoned professionals.

Gallery II features paintings created during the community painting drop-in events with Alice Strohmaier. Alice led several events from May to August, in Penticton & Kaleden, where participants were given a 10x10" canvas panel and the same set of acrylic paints to work with while creating what aging well means to them.

The seniors from both exhibitions were invited to include a write up to accompany their artwork if they choose that would be posted unedited. They could present their name or be anonymous. A booklet for each exhibition was created and is available to view at the gallery or online.

The online portion of the exhibition will launch September 17th.

Contact Info:
Bethany Handfield, 250-492-7997, Click here to send an email
Website