Winter Exhibitions at the Leir House
Date: Saturday Nov 05, 2022 - Saturday Jan 07, 2023
Community: Penticton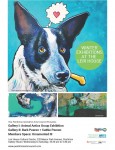 • Animal Antics in Gallery I: Bright and cheerful group exhibition celebrating the love of animals and the curious things they do featuring.
• One Thing Leads to Another in Gallery II: A dual exhibition featuring sisters-in-law Barb Peeren & Cathie Peeren as they explore their creative sparks.
• Ornamented III in the PDCAC Members Space: The PDCAC's 3rd annual ornament exhibition also includes one-of-a-kind paintings, prints, pottery and more - all created by arts council members.
Each exhibition features paintings, pottery, fibre arts and more. Shop local this holiday season by purchasing unique and one-of-a-kind items created by Okanagan artists.

The Penticton Arts Council Galleries are located at the historic Leir House Cultural Centre, 220 Manor Park Avenue, Penticton.

Contact Info:
Leir House Cultural Centre, 2504927997, Click here to send an email
Website