POTTERS BY THE SEA Show & Sale; ArtSea gallery, 9565 Fifth St, Sidney, BC. 9 local potters show their latest work. Visit us in person, and enjoy a stroll along the beautiful waterfront walkway. Free entry & free parking on site.
Date: Friday Nov 25, 2022 - Thursday Dec 01, 2022
Time: 10:00am - 4:00pm
Community: Victoria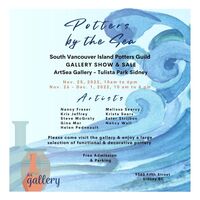 9 Local Potters show their latest work at ArtSea Gallery,
9565 Fifth St., Sidney, BC. Free Admission & Parking. Wheelchair access.
Extended hours on Opening Friday, to 6:00pm.
Come enjoy a large selection of functional and decorative ware.


Contact Info:
Nancy Wall, EARTHEN VESSELS POTTERY, 250-479-3524, Click here to send an email
Show member page
Location:
9565 Fifth Street, Sidney, BC